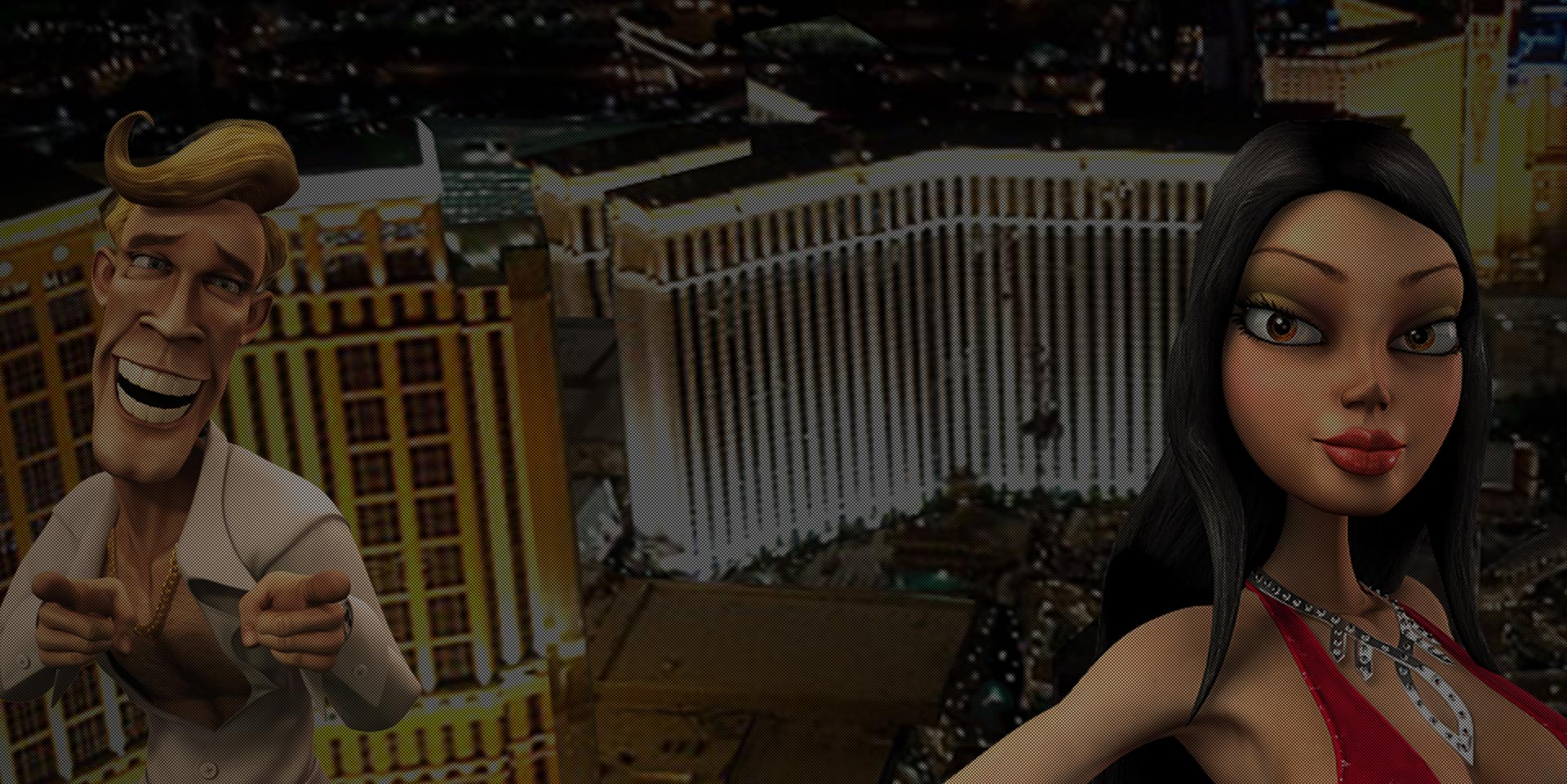 Mr. Vegas
Mr Vegas Slot Review
It's garish, it's gaudy, and it's certainly generating plenty of buzz, as Betsoft's latest creation presents a trip to Las Vegas that few players are ever likely to forget. Mr Vegas – as you've probably already guessed – stars a character named Mr Vegas as he rolls into the city of sin with two beautiful women on his arm.
Slots themed around the Las Vegas strip aren't new – in fact, they're borderline cliché at this point – but Mr Vegas strives to be different. Through a fair helping of cheesy charm, Mr Vegas could be a game that rides all the popular clichés to the very top of the "Most Played" charts!
Gameplay
Mr Vegas carries the usual 5 reels and 30 paylines, but this game goes far beyond that in terms of its gameplay. Not only does this game come with a progressive jackpot – more on that later – but it also allows for near-total flexibility in how you can play. The coin value range here is spread between 0.02 and 1.00, allowing for a max bet of 150 coins to cover all 30 paylines. This means that Mr Vegas has the power to appeal to both budget players and those with a little more cash to plunk down.
For all the flexibility of the gameplay, the paytable in Mr Vegas seems to be pretty cash-strapped. Given the characters at hand, we expected bumper-payouts in droves, what you'll actually get is a payout range between 50 and 2,500 coins. The progressive jackpot is obviously the draw of Mr Vegas, but a few base game payouts worth playing for wouldn't have gone amiss.
Features
Mr Vegas is a bit of an oddball when it comes bonus features, as the usual wilds, multipliers, and scatters are sacrificed in favour of two bonus rounds and a free spins feature. Revolving around the wild escapades of Mr Vegas, when he appears on reels one; three, and five you'll be whisked away to the roulette bonus feature. Mr Vegas will rock up to the wheel, allowing you to give it a spin, by landing the right number you can grab yourself a bonus prize. You can also step up to another wheel in the form of the money wheel, which can be unlocked by finding any winning combination on the reels.
The money wheel is a really fun addition, as it loads up on cash extras, but even that isn't all. Mr Vegas rolling the dice operates as the free spins symbol, as by finding enough of him, you can grab up to 10 free spins, with a 2x multiplier attached to each win. Mr Vegas packs plenty of punch when it comes to bonus features, which is sure to set it apart from similarly themed games.
Performance
Mr Vegas blew us away, as this game is incredibly well designed. Leading with a rather realistic intro video that takes in the Las Vegas skyline, it then throws you off guard with the appearance of the cheesy looking Mr Vegas and his two female companions. The graphics used in the game are pretty blocky, but that actually makes them funnier in our opinion. The main game screen is crammed with bright lights and an unbelievable amount of flash, with the funky symbol animations only helping to make the UI of Mr Vegas the complete package.
For all the silliness of Mr Vegas, it's a game that is optimized for practically every device. Making up part of the ToGo and Slot3 game lines, it'll perform well on tablets, smartphones, and desktop devices without too many problems. It's safe to say that Mr Vegas is "flash" in more ways than one.
Conclusion
Mr Vegas is a flag bearer for the Betsoft brand, as they've pumped some serious investment into this game. From the top-grade appearance to the super-fun bonus features, it becomes easy to overlook the shortcomings that come about through the bog-standard paytable. Anyone on the hunt for a progressive jackpot game that doesn't stop short with the Vegas clichés need to look no further than Mr Vegas!
Slot Details
Software: Betsoft Gaming Game Type: Video Slot Paylines: 30 Reels: 5 RTP: 93.6% Special Feature: Roulette Bonus, Money Wheel Bonus Progressive: Yes Free Spins: Yes Published by: BitStarz, award-winning Bitcoin Casino
Show more