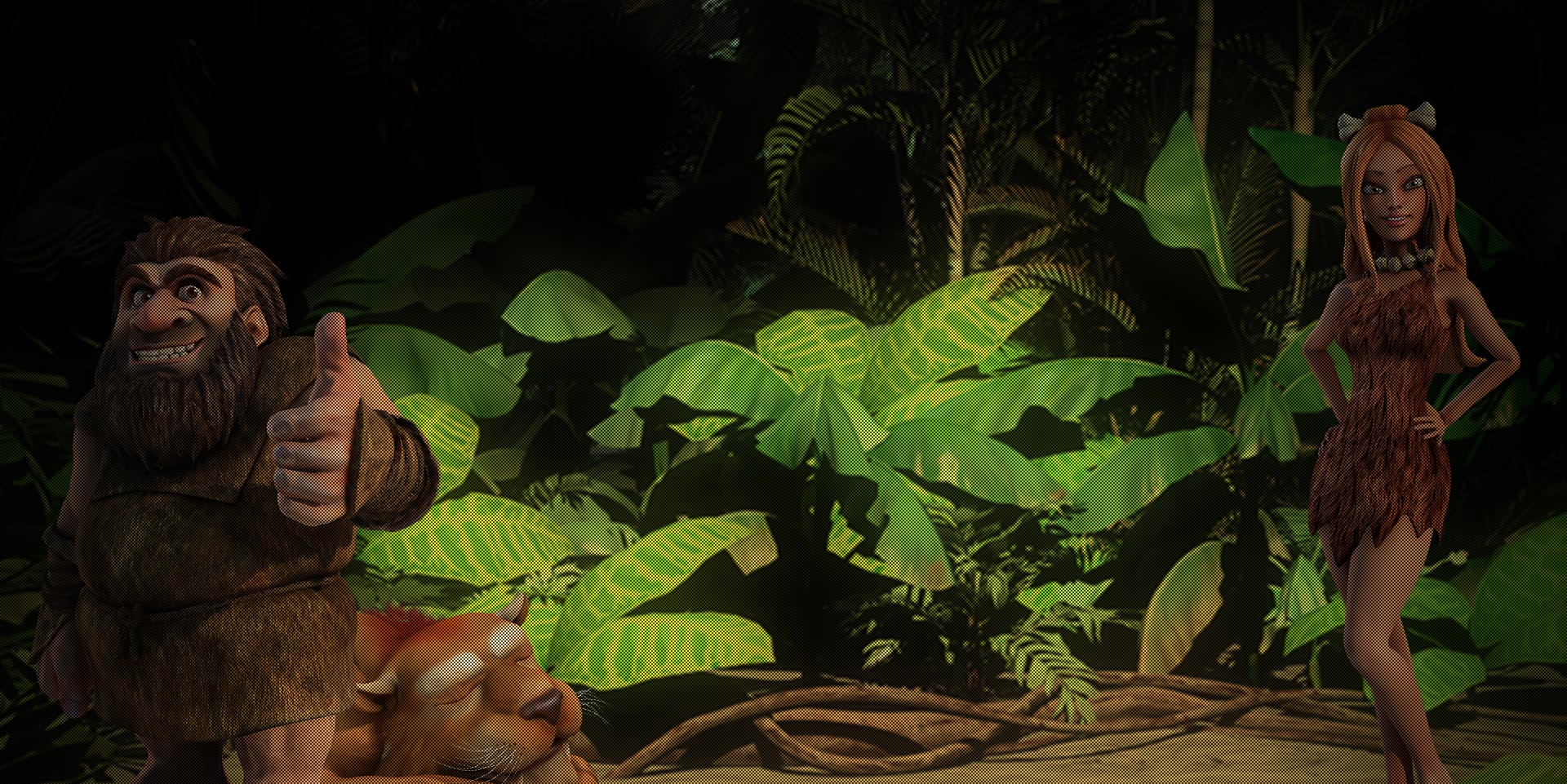 2 Million B.C.
2 Million B.C. Slot Review
Capturing the essence of the Stone Age, Betsoft Gaming is rolling out plenty of cavemen and cavewomen in new game 2 Million B.C. Making use of a theme that we haven't exactly seen too much of in the past, this stone chiseled, wilderness-based game looks like it's able to serve up quite the history lesson. What's helping 2 Million B.C. come out swinging is probably it's engaging rewards and bonuses that are cleverly spread throughout the game.
Stating the obvious, this isn't going to go down as Betsoft's best game. But, that statement doesn't tell the whole story of 2 Million B.C. Within Betsoft's back catalog – which is packed wall-to-wall with great games – 2 Million B.C. is more than able to hold its own, even it doesn't prove to be all that memorable.
Gameplay
Bringing the boulders, the base game of 2 Million B.C. proves to be barrels of fun. Spread out across 5 reels and 30 paylines, this game makes up part of Betsoft's growing Slot3 Series. Allowing players to wager up to 5 coins per line – making for a max bet of 150 coins – with coin denominations ranging from 0.02 to 1.00. What's surprising is that this game isn't afraid to stump up quite the challenge, with 2 Million B.C's 91.94% RTP meaning that payouts can be few and far between at times.
Every symbol in 2 Million B.C. comes directly from the Stone Age, as clubs, cave paintings, cavewomen, jewels, saber-toothed tigers, and much more is what's going to land you wins here. As you now know, the RTP of this game is crazy low, but it's compensated by the sheer wealth of payouts in the base game. While there aren't any ground shaking prizes, what's here ranges between 50 coins and 2,500 coins, so it's more than an acceptable offering in our eyes.
Features
Betsoft never stops short when it comes to bonus features, so it's great to see 2 Million B.C. bring some fun added extras to the reels. Players that get a kick out of free spins are in luck, as by finding three or more of the fire pit symbol on the reels will grab you a fair handful. You can also earn additional free spins during any free spins round by finding more fire pit symbols.
2 Million B.C. gets the bonuses rolling with free spins, but that's just the tip of the iceberg, as this Betsoft game offers not one, but two, dedicated bonus rounds. Collect three acorn symbols on the reels and you'll enter the Saber Attacks feature. Pitting you against a saber-toothed tiger, should you be able to knock down this beast you'll win an instant payout.
Not staying down for long, the saber-toothed tiger returns in the Diamond Bonus feature. Unlocked by finding three or more diamond symbols on the reels, you'll need to help the cave man pull the diamond from the saber-toothed tiger's mouth. Should you manage to do so, you can get your hands on up to 1,000 coins.
Max Win
The max win in 2 Million B.C. serves up more than just a pile of rocks, as it's a case of cash and coins all the way. Should you be able to dominate the reels of this game, you'll be able to win 150,000 coins. This game might prove to be a bit unforgiving at times, but this jackpot isn't anything but generous.
Performance
2 Million B.C. gets off on the right foot, but the wheels quickly start to come off when you start to play this game. The graphics range from the detailed to the almost blurry, while the impressive video intro isn't matched by the animations on the reels. The soundtrack used is a nice touch, but 2 Million B.C. just feels like a missed opportunity for Betsoft, as it's presentation isn't quite on the same level as some of the developer's other games.
Conclusion
Betsoft has a game catalog that pretty much every game provider would be envious of, with 2 Million B.C. being a fun addition. The problem with this game is that it has too many shortcomings to make it one of Betsoft's finest games. Super enjoyable bonus features and a pumped-up top payout are weighed down by a harsh RTP and patchy game design. Overall, 2 Million B.C. is well worth playing, but if you're looking for quick and fast payouts, this game might not be for you.
Slot Details
Software: Betsoft Gaming Game Type: Video Slot Paylines: 30 Reels: 5 RTP: 91.94% Special: Diamond Bonus Feature, Saber Attacks Feature Progressive: No Free Spins: Yes Max Win: 150,000 coins Published by: BitStarz, award-winning Bitcoin Casino
Show more