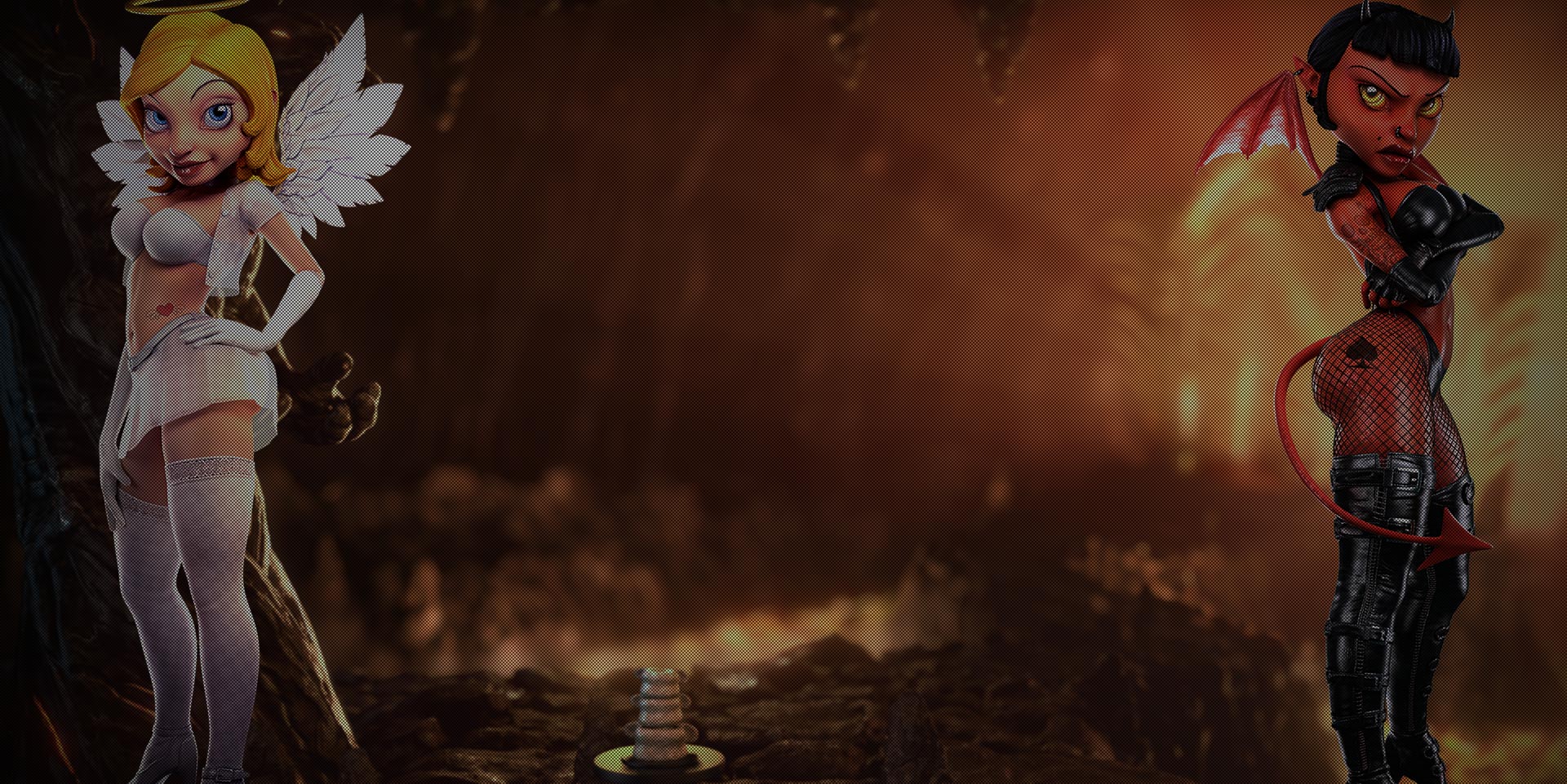 Good Girl, Bad Girl
Good Girl Bad Girl Slot Review
"Good Girl Bad Girl" - now that's a very intriguing video slot title. It could well be about my college years: I dated two girls at the same time (nothing was hidden – the relationships weren't serious yet). One was the embodiment of Snow White – I swear, people would bend to her will just through the sound of her voice. When we went for picnics, birds would perch on her shoulder! The other girl I was involved with was a biker who had a penchant for leather. Whether it be professors, wildlife or students – everyone would flee her path! Her glare would mean create instant submission. Which did I end up with? Neither. They both dumped me.(one in a nice way and the other one by sticking a kebab skewer in my leg). Which one do I have fonder memories of? Well, they both appealed in different ways and I could never choose (even after the injury).
Wow – that was a trip down memory lane. Let's talk about the actual game now! Good Girl Bad Girl is a stunning progressive video slot by Betsoft which can be enjoyed on PC, mobile device or tablet. It's clear right away that this game is part parody on the times we're torn morally. You know – those scenes in movies where there's an angel on one shoulder and a devil on the other? Here, on either side of the reels are a floating angel in heaven and a demon in hell (she's a very attractive demon though – just a bad version of the angel). The scene is set for a not too serious battle of wills! I felt horrible having to choose which character– vowing to give them each equal time. Déjà vu!
Gameplay
Good Girl Bad Girl is a 5 reel a 15 payline slot with variable volatility, depending on which character you select. As in real life, the good girl has low volatility and the bad girl has high volatility, while the combination would be medium. Clever hey? The standard symbols are obviously headed up by the good and bad girls. Joining them are a nice kitty, evil cat and very ornate 10-Ace icons. There are two wilds which can substitute for any of the standard symbols only. One is a pitchfork (reels 3-5 only with possible 1-4X multiplier) and a ring (reels 1-3 only with possible 1-2X multiplier). There's also a money wheel bonus icon which can't be replaced and I'll chat about that a bit later. The controls are artistically embedded within the game screen. Up top are Options (including Turboplay), Progressive Jackpot displays and View Pays. Down below are Choose Coin, Select Lines, Bet Per Line, Choose Character, Total Win, Bet Max, Spin and Autoplay. Just above that are Balance and Credits displays. Before beginning, you need to select which mode of play. 3 options are available:
Good Mode offers low risk with smaller wins.

Bad Mode is the high risk option, with less frequent payouts but bigger wins.

Both modes active costs double but pays both ways.
Features
Double up Bonus Feature: After each winning spin in regular play, you get a chance to gamble your profits on a double or nothing bet revolving on card choice. There are Free Spins in this game, but you get to them through a unique feature in our next section.
Unique Features
Click-Me Bonus When the two different wilds occur side by side, the Click Me Bonus Feature is enabled. The feature is slightly different in each mode:
Good Mode: 4 white gift boxes are presented. Contained inside are a small win, medium win, big win and "collect". Choose until "collect" is exposed at which point your wins are tallied up and paid.

Bad Mode: 4 black gift boxes are shown. Some are glowing and some are not. The glowing ones contain either a big win or "collect" while the non-glowing contain medium or small wins. Once finished your wins are added up and paid out.

Both Modes Active: If both modes are active when this feature is triggered, you get to choose between the good or bad variant option. Money Wheel Bonus: 3 Money wheel symbols anywhere on reels 1,3 or 5 activates this feature. Again, things can be different depending on your mode:

Good Mode: play the Good Money wheel for a chance at the Good Jackpot.

Bad Mode: Play the Bad Wheel for a chance to win the Bad Jackpot.
Both Modes Active: Choose between good and bad wheels. In each option, once taken to the money wheel, simply spin to earn a prize. It could be instant credits, Free Spins and a chance to trigger the Progressive jackpot. (Note: Progressive Jackpot can only be won during max bet)
Maximum Win
Who knows how high those Progressive Jackpots can get?
Performance
Watch out Pixar– the graphics and animation in Good Girl Bad Girl are on a par with some of your films. If Betsoft enters the movie scene, you may be in trouble! Apart from the synthesizer sound when reels spin, all the sound effects add to the atmosphere wonderfully. The music keeps the game ticking along nicely. Despite its complexity, Good Girl Bad Girl performed flawlessly.
Conclusion
Perhaps there's too much content and possibilities in Good Girl Bad Girl. That would be the only negative I could find. But isn't that a bit picky? Like saying "the buffet is too big." With a gorgeously presented game and a ton of amazing features, Betsoft has delivered yet again. So do you feel like being good or bad today?
Slot Details
Software: Betsoft Gaming Game Type: Video Slots Paylines: 15 Reels: 5 RTP: 97,3% Bonus Game: Yes Progressive: Yes Free Spins: Yes Max Win: Progressive Jackpot Amount Published by: BitStarz, award-winning Bitcoin Casino
Show more