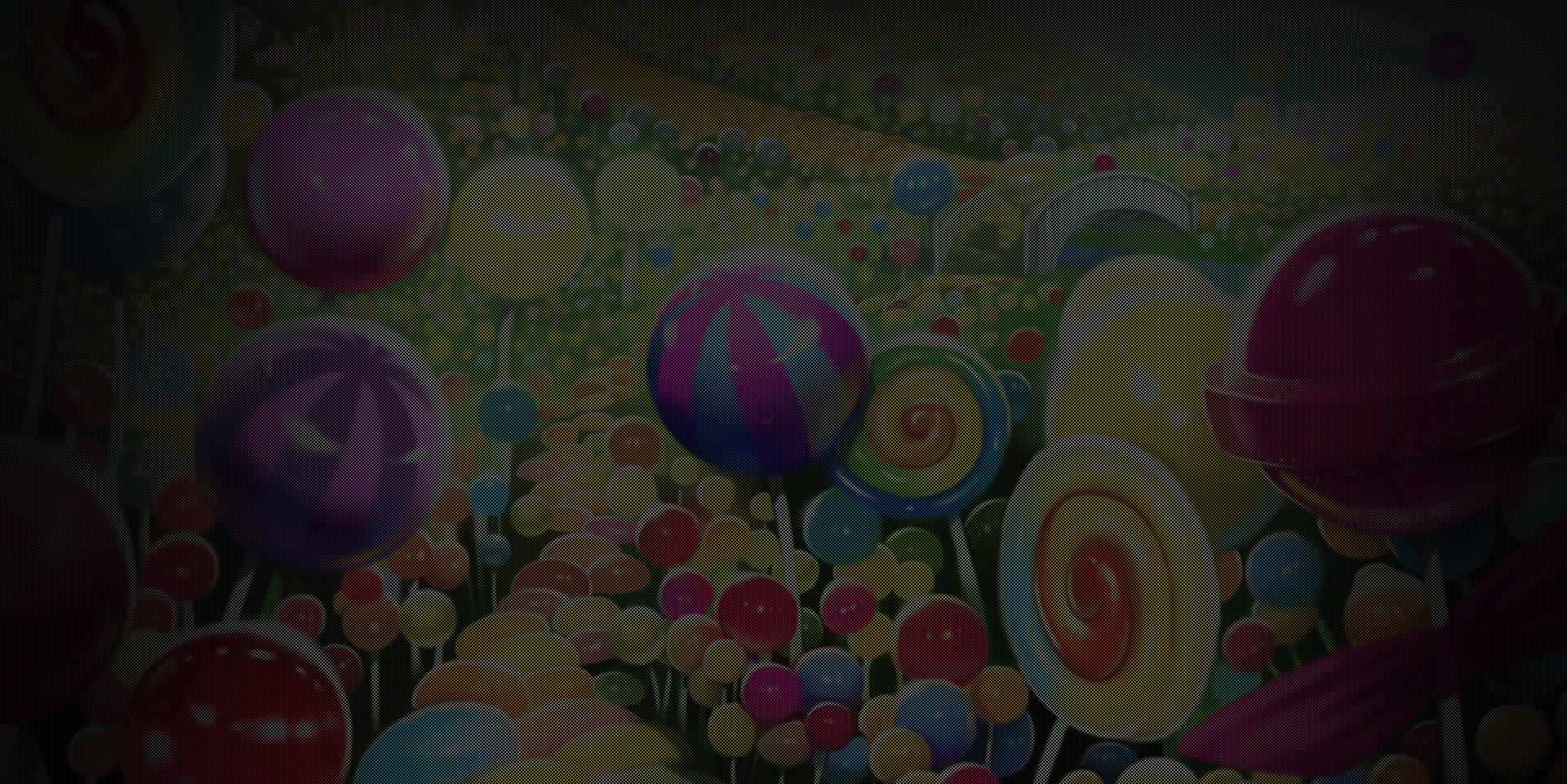 Sugar Pop
Sugar Pop Slot Review
I avoid sugar like the plague. I'm not a health nut but refined sugar causes a host of health problems:
Insomnia (I don't think this would apply to me though, I could fall asleep on an overcrowded bus in a third world country with a chicken perched on my head)
Hair Loss ( I can't afford any more of that!)
Obesity (I'm already there)
ADD/ADHD (what's this article about? Isn't it lunchtime?)
So taking this into account – how do I build up my willpower to resist the evil temptation of sugar? I find a video slot that pays homage to it and if I can play for hours on end without a craving, then voila, I am cured! Of course, this approach could spectacularly backfire, so a word of caution before you play Sugar Pop – don't start hungry! Sugar Pop is a Betsoft creation which is equally sweet on all platforms and devices enabling you to get your fix anytime, anywhere. When I started this game the initial feeling I got was childishness. ("I want that sweetie!"). I felt like I could grab straight off the screen and gorge myself with treats. Slowly my sweet tooth subsided, and I could appreciate the game. It's undeniably happy, like the kinda place Willy Wonka would build if he branched out from chocolate. There is a lot going on, and I almost started to feel hypnotized. Let me clarify: Hypnotised into a "happy place", not a "sunken place"! Once I settled into this "happy place", it was bliss all the way…
Gameplay
I gotta be honest, this game is kinda complicated at times, and initially I felt slightly overwhelmed. Its got 5 reels and 243 paylines with so many symbols, bonus features and animations along the way that it would be impossible to list them all! The primary symbols are simplistic candies in a variety of shapes and colors. The game progresses to higher levels and you encounter a slew of new symbols. Instead of a spin, the symbols cascade down and when two like symbols touch, they explode, causing a further cascade. Each spin contains mainly regular candies, but there's a chance for Special Candies to pop up. The controls are what it would look like if a sugar-high child designed a space shuttle. It's so "busy that the game screen takes up only half of the designated area. On the left, we have a vertical panel with your Level Display, Bonus pattern, Game Details and Score, together with Credits and Balance. Along the bottom, we have Choose Coin Autoplay, Spin, Max Bet, Bet Amount and Win Amount. At the top are Game Settings (including QuickSpin) and Paytable Info.
Features
Almost every feature of Sugar Pop is unique, so I'm going to lump them all together in this paragraph. During Sugar Pop, you earn points which are awarded enabling advancement to the higher levels. Each time the meter on the right fills up, a higher level is attained. Remember that the crux of the game is that destroyed candy needs to be replaced by falling candy which gives you another chance to win. So with most new levels, there are extra symbols helping in this regard.
Get comfortable because there's plenty of features and bonus symbols:
Super Color: When 4 of the same color candies create a combination, they form a special super color symbol. If this combines with matching colors, then the combination is multiplied before the next game.
Color Bomb: When 5 or more of the same color create a combination they form a candy bomb – how awesome is that?? If this combines with matching colors, then every symbol of that color explodes before the next spin.
Lollipop (level 1 and up): After a losing spin, it swirls brand new candies onto the screen for a second winning chance.
Caramel Chew (levels 2 and up): This tasty treat takes a random path around the reels, destroying everything in its way.
White Chocolate (levels 3 and up) Wowee! This fires out almonds which explode candies for instant wins.
Gumdrop (levels 5 and up) It sucks up nearby sweets, then it blows up (like an old vacuum cleaner that runs on the same battery as a Samsung Note).
Jawbreaker (levels 8 and up): Flying off the reels it crushes candies in its way.
Candy Cane (levels 10 and up): My favorite – it explodes all candies in its row and column, before self-destructing!
Jelly Beans (levels 12 and up): Up to 3 Jellybeans will fly and land, exploding their target into a tasty win.
Chocolate (levels 15 and up): A 3x3 box borders round this symbol and becomes chocolate itself, before popping.
Cotton Candy (levels 20 and up): A storm of Cotton Candy spirals around, picking up wins on the way.
Peanut Butter Cup (levels 21 and up) After a winless spin, your symbols get whirled around in another order for a free chance to profit.
Finally, a bonus pattern is featured on the left of the game. If your exploding symbols match the pattern, then you are credited with another 600 points towards the next level.
Performance
Sugar Pop has an option to lower the quality of graphics, which could help some older machines, but in all honesty, it powered through on all the devices I tested. The graphics are deliciously drawn while the music and sound effects compliment the theme. The animations, in particular, are mesmerizing.
Conclusion
This slot review may possibly be the longest in the history of online casinos – that is a testament to how many fun aspects this game has. It will probably be the forerunner of many more slots to come that'll try attempt to emulate it. An incredible 243 ways to win, combined with an RTP of 97.6% are enough to entice some players. Sugar Pop takes some getting used to because it's something completely different and somewhat of a hybrid between an arcade game and slot. The best part is it kept me occupied for hours on end without needing a sweet treat! So, even if the theme doesn't appeal to you, Sugar Pop with impress and captivate. Go on – treat yourself!
Slot Details
Software: Betsoft Gaming Game Type: Video Slot Paylines: 243 Reels: 5 RTP: 97.6% Bonus Game: No Progressive: No Free Spins: No Published by: BitStarz, award-winning Bitcoin Casino
Show more